Find out more about the rubbish and recycling collections we offer and how to organize your rubbish. 
Green Bin
Most homes have a green bin for their household rubbish. Depending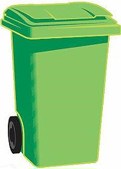 on the recycling service you have this bin will either be collected once a week or once every two weeks, on the same weekday.
Items such as small electrical items or Foil lined food cartons such as milk cartons or Pringles tubs should be put into your green bin or taken to a local recycling point.
Suitable Items for Green Bin
Yes, please
Any household waste that cannot be put out as part of your recycling collections
No, thanks
Bricks
Rubble
Soil or large items
---
Recycling Bin
We now have a grey lidded brown bin for the collection of plastic,
 paper, tins and cardboard. We will collect the recycling and composting one week and the remainder of your waste (in the green bin) the following week.
Yes, please
Catalogues and brochures
Paper
Food and drink cans
Plastic bottles
Aerosols
Newspapers and magazines
Cardboard (please break down cardboard into a manageable size and where possible place in your bin)
Large tins
Plastic tubs, pots and trays
Telephone directories
Glass bottle and Jars
No, thanks
Bagged waste
Foil lined juice and milk cartons
Paper Tissue
Sticky labels
Plastic carrier bags
Cling film
Foil
Wallpaper
Polystyrene
Textiles
Light bulbs
Pyrex
Window panes
Useful Guidelines
Your bins should only be put out after 7pm on the night before your collection and taken back in before 7pm once your bin has been emptied
Please remember you can be fined £100 for leaving your bin out for more than eight hours before or after collection day 
Please remember to have your bin out for collection by 7am and be aware that severe weather may affect our collections
Wheeled bins can be used as a tool for burglary or fire (Bringing your bin back in promptly will help to prevent this)
Please make sure your bin is presented safely and it doesn't cause an obstruction
Please place the bin by the kerbside of your property, or at the agreed point
If we miss your collection, you can 'report a missed bin collection' Once a bin has been reported as being missed off the collection, our target is to empty it within five working days
Garden waste collections will be on the same day as your recycling bin but at a different time
If you miss the collection day and fail to put the bins out, you must make arrangements for the waste to be collected and dispose of
Landlords
If you are a landlord of a licensed rented property and your tenant fails to follow this guidance or the property is unoccupied, then the landlord, the licence holder must adhere to this guidance themselves
The licence holder or landlords of a rented property must ensure that trade rubbish and waste is not disposed of in the domestic household bins