These are supporting documents that add further detail to the planning policies set out in the adopted Local Plan.
SPDs are documents which add further detail to the policies in the Local Plan. They can be used to provide further guidance for development on specific sites, or on particular issues. SPDs are capable of being a material consideration in planning decisions but are not part of the statutory development plan.
* applies to planning applications registered after 1 April 2021.
S106 Estimator
A number of further SPDs and other planning documents are proposed and you are advised to view the Latest News section of the website which provides details of these including current consultations.
Supplementary planning guidance (SPG) provide additional information to help in the interpretation of Local Plan policies for specific sites or issues
To help make the process for determining of S106 open and transparent a new tool has been produced to give a summary of likely financial contributions for the following infrastructure;
Affordable Housing
Open Space
Education; and
Employment & Training
Details can be found by clicking the button below.
---
The Design Quality Framework is a series of guides to help developers make better design choices for their building project and to meet Nottingham City Council planning requirements more easily.
The guides are applicable to all kinds of projects, from small scale domestic projects through to large scale commercial developments.
The City Council carried initial public consultation between 11 November and 2 December 2019 and further consultation on a revised draft between 18 December 2019 and 10 January 2020 asking neighbouring residents and other interested parties for their views and comments. All comments on the draft document were considered and presented to the Portfolio Holder prior to the final guidance document being approved.
Informal Planning Guidance - Housing Aid Site, Lower Parliament Street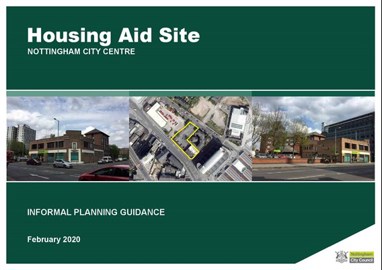 Further details can be found on the Housing Aid Site web page.