The Sheriff of Nottingham is Councillor Shuguftah Quddoos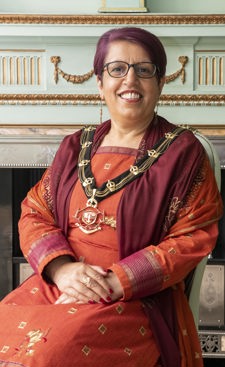 The role of the Sheriff in welcoming visitors to the city is often less formal than the Lord Mayor's.
This is especially relevant to the promotion of Nottingham's historic associations and links with the legends of Robin Hood.
Role
To promote Nottingham as a destination for visitors for short breaks, conferences, business and shopping.
To encourage local residents to use and take part in cultural/ leisure activities opportunities in the city and county.
Background of the Sheriff of Nottingham
Shuguftah was born in Manchester to Pakistani parents and came to Nottingham as a student, where she studied Public Administration as her undergraduate degree. Having completed this, she then spent 18 months living and working in Northern Pakistan.
Shuguftah returned to Nottingham, where she began working of for the charity Women's Aid, and Shelter housing advice service for the next seven years. During this time she met and married her husband. Shuguftah has two children who were born in 1998 and 2000. She has raised her family in the Berridge ward, which she has represented as a Councillor since 2019. Shuguftah has always been a keen community activist, seeking to bring people  together in her diverse ward. She has been Chair of the Sherwood Rise Resident's Association and currently is chair of Faiths In Action, a local interfaith group.
Shuguftah set up her own business, Embrace Equality, in 2010, where, as a Trainer/Facilitator, she delivers training and workshops to organisations seeking to be more inclusive. This work has allowed Shuguftah to become a warm, engaging and passionate public speaker.
Shuguftah is proud that she learnt to swim as an adult and now swims regularly. She enjoys a good book, and being with her family and friends.
Shuguftah is delighted to be the first South Asian woman to be Sheriff
Key Tasks
To support the tourism strategy for the city and county by promoting Nottingham as a destination for visitors for short breaks, conferences, business and shopping
To welcome tourists and visitors to the city at various events, including conferences and entertainment/hospitality venues
To encourage local residents to use and take part in cultural/ leisure activities opportunities in the city.
Opening new retail, entertainment or visitor attractions in the city 
More Information