Colwick Park is situated on the outskirts of Nottingham city. There are fantastic opportunities to photograph a rich diversity of wildlife, including butterflies, dragonflies and many migratory birds, including the nationally significant population of wildfowl present during the winter.
Site Facilities
24 acre West Lake
65 acre Main Lake
Marina
Wildlife Areas
Dogs Welcome
Free entry (barrier charge for cars at River Road)
Car Parking
Site Events
 If you want to run an event in this park, please visit our Outdoor Event Booking page.
Parking and Accessibility
The park is located approximately 4 kilometres East of the City Centre.
Free Car park - at the end of Racecourse Road, past Nottingham Racecourse and Colwick Hall Hotel (NG2 4BH) and off Daleside Road East (adjacent to the Starting Gate Public House, NG2 4DX).
Car park - at River Road, off Mile End Road (NG4 2EW). This car park has a charge of £2 (cash only) and is only between the hours of 09:00 – 16:00.
By Public transport: Please visit the Nottingham City Transport website for further details.
Bike - the park is well placed off one of the region's key cycle routes.
Site Activities 
Geocaching
Bird watching and wildlife photography
Horse riding
Adventure Activities
Ranger-led activities
Nottingham City Open Water Swimming Centre
The West Lake at Colwick Country Park is home to the Nottingham City Open Water Swimming Centre from April to October each year. Open water swimming sessions are run by WholeHealth
for further details on sessions days and times and how to book please visit Wholly Healthy.
DEFRA - The West lake is designated as an "Excellent" DEFRA Bathing Water and tested weekly throughout the season – results are published and available to view here.
Swimming events
Nottingham City Council also undertakes fortnightly testing for blue-green algae.
Swimming at Colwick Country Park is not permitted on any lake other than during the organised Nottingham City Open Water Swimming sessions.  Boats and inflatables are also not permitted.
Fly fishing Only
The smaller West Lake at Colwick is stocked with carp including some recently moved to the lake that weighed up to 36lb! 
This lake is also used for canoeing and sailing by the Adventure Centre.  Various tickets are available, from the lodge, to suit your needs and our course season runs throughout the year. Please see the price list at the bottom of this page for more information.
End of Racecourse Road, Nottingham, United Kingdom
More information please visit the Colwick Fly Fishing Club Facebook page
Colwick fly-fishing club is fly fishing only & can no longer answer any questions/enquiries about coarse fishing at Colwick
The playground at Colwick serves as a great example of what can be achieved through recycling efforts. Much of the equipment in the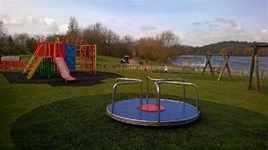 playground has been refurbished and reused from the previous play area on the site. It offers many activities for children between toddlers and 10 years old.
Conveniently situated near the toilet block on the main drive, the playground provides a safe and enjoyable space for children to play and have fun.
Colwick Country Park Self-Guided Walk
There are many paths in this park for you to walk and explore the parks sights; the following link is a route that skirts both the Trout Lake and West Lake out to Colwick Hall, then returns after about 3 miles (5 km) in all
Colwick Country Park Cycle and Walking Route
Explore the park on foot or cycling and enjoy miles of waterside walking and cycling. Distance: 2 miles (4 km)
Parkrun
Whether you are interested in participating as a keen club runner or improving your health and fitness. Parkrun is a free 5 km timed run, jog, or walk that takes place every Saturday at 9 a.m. at Mile End Road, NG4 2DT
Orienteering
Orienteering requires navigational skills using a map and compass to navigate from point to point.  Participants use a specially prepared orienteering map, which they use to find control points. We have created several maps to help you combine map reading skills and physical exercise while enjoying the natural surroundings of a park.
Hiring Colwick Country Park
Our waters and open space can be hired for various events and are particularly suited to competitive running, triathlons and other available water activities.  
Our popular marina* has moorings for up to 224 craft and is managed by the wardens on site. Mooring prices are based on a "per metre" length charge, and we offer a range of mooring terms. Mooring currently costs £134.00 per metre.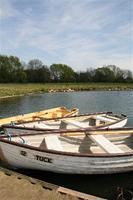 Marina Facilities
Waste disposal facilities
Pump out
Slippage
Toilets
Gated entrance with key access for boat owners for added security
Please note the Marina is only accessible to boat owners.
---
Further Information and Links
If you see problems with play equipment
Contact Colwick Country Park
Contact Parks and Open Spaces