Valley Road Park is a long, narrow green space that runs alongside the north of the Ring Road in the Sherwood Ward. The park runs from Hucknall Road at the West to Mansfield Road in the East.
Site Facilities and Activities
The green spaces East of Edwards Lane includes
Grassed areas,
Bowls greens
The Valley Road water meadow. 
The Westerly section of the park is known as the Jason Spencer Sports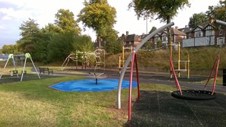 Ground and includes:
A children's play area 
Skatepark
Multi-use games area (ball court)
Outdoor gym
Pétanque terrains (French boules)*
Tennis courts
Parking and Accessibility
Easily accessible by public transport
Bowls
The bowls greens are home to Sherwood Bowls club and Notts Constabulary bowls club.
Valley Road Skatepark
Valley Road skatepark is a nice smooth concrete skatepark with an interesting layout and some unusual obstacles for both the street and transition sections.
Valley Road Tennis Courts.
The tennis courts are located in a quiet area of the park with some road noise during peak times. Access from the car park is only 100m away and has 1 disabled parking space and has a 2m wide path leading directly to the courts. There are no on site toilet facilities.
Pay and Play for £6.25 per court per hour
 Annual Membership which gives you unlimited access to book the courts at Valley Road and Vernon Park for just £35 per household per year.
Please note you have to book your court in order to get or use a PIN code to access the courts.
For more information, please visit the Valley Road Tennis Courts / Valley Road Tennis Courts (lta.org.uk) page 
Outdoor Gyms
Each fitness area is free to use and suitable for all ages and abilities. The equipment has a mixture of cardiovascular (works your heart and lungs) and toning stations which use your body weight as the resistance to your workout, meaning you can either be gentle or push yourself that little harder.
*Nottingham City Pétanque Club welcomes visitors and those keen to learn - just turn up on Tuesday evenings, 7.00 to 10.00 pm or on Sunday afternoons 2.00pm - 5.00pm (1.00 -4.00 pm during winter) for a free session.

No equipment needed. All ages and abilities welcome!  More information is available at nottinghampetanque.weebly.com or leave a message on 07972 424052.
The water meadow was once an area of mown grassland with the Day Brook flowing in a straight line from Mansfield Road through the other area of the park. This grassland used to flood when the water level was high and was often very damp. This has been improved and included changing the course of the Day Brook so it meandered through the grassland and digging out some ponds. This meant that different habitats were created that would attract different wildlife.
Today you can see many different birds, butterflies and dragonflies as well as lots of different plants that grow on wetlands. The mosaic of the pond, wet grassland, river and reedbeds provides lots of different habitats, so why not try to spot some of the many birds, insects and plants on-site?
Further Information and Links
If you see problems with play equipment
Valley Road Park
Contact Parks and Open Spaces