The Strategic Housing Network (SHN) is open to all those working in housing in the city and stakeholders in other services and sectors with overlapping agendas or interests in housing matters.
Nottingham Nouse
The communication, intelligence and information sharing section of the Nottingham Strategic Housing Network
Quality homes for all
The Council's Housing Strategy 2018 to 2021, 'Quality Homes for All' was agreed in June 2018.
Its overall vision is that all of Nottingham's citizens should be able to access a good quality home, irrespective of whether it's owned or rented.
The strategy shows:
How we will ensure that more much-needed homes are built in Nottingham
How we will invest in the existing homes we have to ensure they are of good quality, and how we will raise standards in the private rented sector
Our approach to meeting more specialist housing needs
How we will deliver better health outcomes through housing
How we will ensure that housing providers play their part in keeping our communities strong
Nottingham City Council has commenced activities to review and develop a new Housing Strategy for Nottingham city. The housing strategy is a partnership document as it is delivered by a range of organisations; it will also be about far more than the 'bricks and mortar' or the building of new homes.
The first of a number of activities to renew the strategy was a webinar that took place on Wednesday 9th February 2022. The presentation slides from the webinar have been uploaded to this page enabling stakeholders to understand proposed themes and the backdrop to the themes alongside the views key stakeholders.
Further workshops will be made available to enable stakeholders to interact, if you wish to be involved please contact housing.network@nottinghamcity.gov.uk 
The full version of the strategy and a summary of the document is available below.
What is The Strategic Housing Network 
The Strategic Housing Network is open to everyone interested in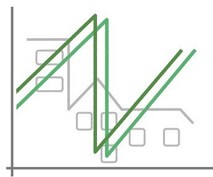 housing in Nottingham and is the source of news, information and intelligence about housing nationally and locally.
Nottingham Nouse
The network's key communication medium is Nottingham Nouse, an information and intelligence hub hosted by the City Council's Housing Strategy team. Everyone who is signed up to the network receives regular alerts from Nouse.
There are also Nouse Twitter and Facebook pages.
Stay Connected Mailing List
You can join the network by signing up to the Council's Stay Connected service and selecting 'Nouse Housing Strategy' and 'Nottingham Nouse Weekly Twitter Roundup 
The Strategic Housing Network is designed to be interactive, so if you have anything you want to say about housing, share news or insight please email us on Housing Network. We produce a quarterly newsletter, so articles for this are very welcome.
About Nottingham City Council Tenancy Strategy
The Localism Act 2011 requires local authorities to develop a Tenancy Strategy for Registered Providers of social housing in the city.  Our Tenancy Strategy sets out what we expect from registered providers when they develop their housing policies.  If you would like more about the tenancy strategy, please contact Housing Network