Climate change has become a significant cause for concern across the world. The last 4-year period has been the warmest on record, extreme weather events are becoming more severe and common, where July 2022 recorded the highest ever UK temperature of 40.3°C.
A big factor in the change in our climate is the impact of human produced 'greenhouse' gases, mainly carbon dioxide CO2, increasingly trapping heat in the atmosphere. This has led to over 300 local authorities in the UK declaring climate & ecological emergencies and the realisation of the urgent need to significantly reduce carbon emissions to as close to zero as possible.
Nottingham's plan
The Carbon Neutral Action Plan sets out high-level objectives to achieve a resilient and sustainable carbon-neutral Nottingham by 2028 (CN28).
The plan is broken down into four main sections, covering a range of themes:
Carbon reduction measures (including transport, the built environment, energy generation, waste and water, and consumption)
Carbon removal
Resilience and adaptation
Ecology and biodiversity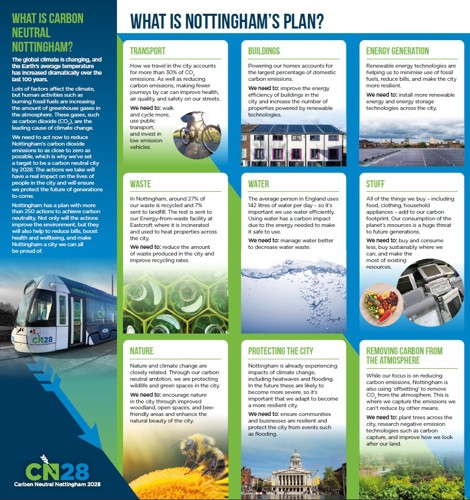 Our 251-point plan sets out where we in Nottingham need to go and focuses on the actions the council and the city can take now. Together we can make Nottingham the  first carbon-neutral city in Europe, bringing benefits to all who live in, work in, and visit the city.
To find out more about Nottingham's approach to carbon neutrality and citywide emissions analysis, read Nottingham's 2028 Carbon Neutral Charter.
Current progress
Nottingham has reduced its overall CO2 emissions per capita by 57.7%, the highest reduction of any UK core city. During the second year of delivery, significant achievements have been made to help continue the downward trend of CO2 emissions in the city.
Take a look at the highlights from 2021-22:
The full Carbon Neutral Nottingham 2028 Action Plan Review for 2021-22 has all of the second year's achievements and a preview of what's coming next.
Previous annual reviews
---
Subscribe to our monthly newsletter