What is Hello Nottingham?
Hello Nottingham lets you take part in playful and thought-provoking conversations with objects and places around the city.
It's easy to have these conversations using your mobile phone by following the instructions on signs placed around the city. By chatting with Hello Nottingham, you can have your say and influence climate action in Nottingham or simply find out what it's all about!
Conversations will focus on tackling climate change and Nottingham's ambition to be carbon neutral by 2028 (CN28). We're interested in how people feel, what they think is important, and what they want to do.
During the project, the chat will evolve based on what we hear from people, so you can tell us lots of things and continue to be involved in different conversations.
The project is a collaboration between Nottingham City Council, University of Nottingham, and Hello Lamp Post, and it will be open until Summer 2023.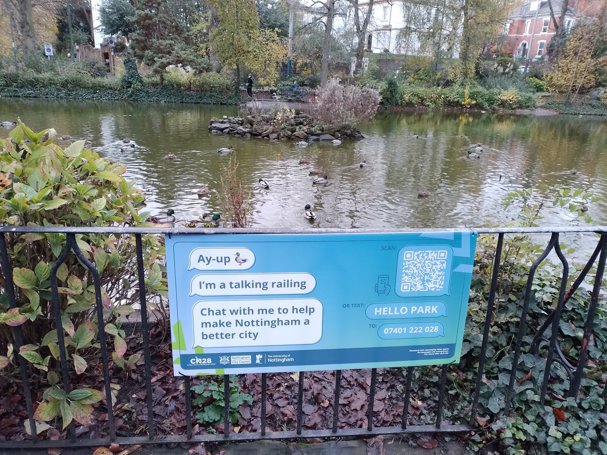 How does it work?
People who live in, work in, or visit Nottingham can have a conversation with Hello Nottingham by sending a text to the number shown on one of the Hello Nottingham signs which can be found around the city.
To chat:
Scan the QR or message the number shown on a Hello Nottingham sign. No need to download any apps
Say hello to start the conversation
Tell Hello Nottingham what you think
And that's it!
All conversations are completely anonymous. Conversations are free, but your network's standard message rates apply.
Why are we doing it?
The project will enable us to understand how our city feels about climate change and find out how it is affecting lives. We want to hear from as many people as possible.
We're always keen to get feedback and hear ideas from you, but we know we need to do more to reach people in ways that work for them. That's why we want to use this fun, accessible approach to reach those who are currently underrepresented in our traditional forms of consultation.
The playful nature of Hello Nottingham provides an open platform for anyone to provide their views on climate change as they go about their day-to-day lives in the city, personalising which can feel like a very large and complex issue. This project will not only be significant in shaping local climate action and policies, but also future research priorities and wider public engagement practices in the city. 
Where will the signs go?
Over the project, 40 signs will be in place across Nottingham City, from the city centre to communities, and our parks to universities. People can take part in Hello Nottingham conversations in places that are meaningful to them.
Keep an eye out when you're out and about, and watch our social channels for clues in where you can find a sign near you.
How we will use what we find out?
What we learn will inform the work we do to communicate and engage citizens with CN28.
We can't achieve our city's ambition to be carbon neutral by 2028 without everyone in Nottingham getting involved, so it's vital we know the best ways to engage with you and communicate what needs to be done.
The findings from the Hello Nottingham project will shape the CN28 communications campaigns and engagement projects we deliver.
Get in touch
If you have any questions about the project, or need to let us know about an issue with a sign, please email climatechange@nottinghamcity.gov.uk