Radon is a naturally occurring radioactive gas, associated with certain rocks, which enters buildings from the ground and gives radiation doses to the occupants.
What is Radon?
Radon Classes
Radon Maps
Advice and Information for Householders from Public Health England
Landlords and tenants
Measurement Service for householders
Individual Report on the radon potential for a home
Radon in the workplace 
What Radon is
Radon is a chemical element with symbol Rn and atomic number 86. It is a colourless, odourless, tasteless, naturally occurring, radioactive noble gas. It is one of the heaviest substances that remains a gas under normal conditions.  It is considered to be a health hazard because it is radioactive.  Radon is produced by radioactive decay of uranium that is present in rocks, soils, brick and concrete.  Uranium has existed since the Earth was formed and has a very long half-life (4.5 billion years), which is the time required for one-half of uranium to break down. Uranium, radium, and thus radon and its decay products will continue to exist indefinitely at about the same levels as they do now.  The most stable isotope of radon (222Rn) has a half-life of 3.8 days.
Click here for more information on ionising radiation.
Radon and its progeny (decay products) are responsible for the majority of the mean public exposure to ionizing radiation. Radon is often the single largest contributor to an individual's background radiation dose and is certainly the most variable from location to location. Radon gas from natural sources can accumulate in buildings, especially in confined areas such as basements. It can be found in some spring waters and hot springs.
Radon is considered a significant contaminant that affects indoor air quality worldwide. It is reportedly the second most frequent cause of lung cancer, after cigarette smoking.  People who are exposed to high levels of radon are more likely to get lung cancer (much more so if they are smokers as well). UKradon (part of Public Health England) estimates that radon is the cause of 1100 lung cancer deaths per year in the UK.  Additional risk information has been published by the British Medical Journal (BMJ) in "Lung cancer deaths from indoor radon and the cost-effectiveness and potential of policies to reduce them" (Gray et al. 2009), which includes comments on the paper and additional information resources.  The most vulnerable age group is persons aged between 60 and 64 years who have had a lifetime exposure to radon
The radon gas can seep into buildings and expose the occupants to radiation. 
The picture above indicates some of the pathways that allow radon to enter properties.
Radon levels in homes vary during the day, from one day to the next, and from winter to summer, mainly because of temperature differences between indoors and outdoors. The levels are generally higher at night and during the winter. The amount, or activity, of radon, is measured in becquerels (Bq).  Public Health England recommends that radon levels should be reduced in homes where the average level is more than 200 becquerels per cubic metre (Bqm-3 ). This recommendation has been endorsed by the Government.
Radon is present in all parts of the UK, but in the most populous areas, the levels are quite low. Some of the highest levels have been found in southwest England, but levels well above average have been found in some other parts of England and parts of Scotland, Wales and Northern Ireland. However, even in these areas, most homes have low levels.
To enable radon initiatives to be targeted effectively, the most radon-prone areas are designated as Affected Areas, defined as those areas with a greater than 1% chance of a house having radon levels above the Action Level of 200 Bqm-3.  Public Health England recommends that people in Affected Areas should test their homes for radon.
In July 2010 the Health Protection Agency (HPA, now part of Public Health England) introduced a "Target Level" of 100 Bqm-3 in addition to the 200 Bqm-3 Action Level to emphasise that even below 200 Bqm-3 there are still risks to health and simple remediation measures can be taken to reduce these risks.
Radon Classes
Radon Class

% properties above 
action level

HPA/PHE
BRE
1

0-1%

-
-
2

1-3%

AL
-
3

3-5%

AL
AL
4

5-10%

AL
AL
5

10-30%

AL
AL
6

>30%

AL
AL
HPA/PHE - Health Protection Agency/Public Health England Action Level (AL)
BRE - Building Research Establishment and Building Regulations Action Level (new properties and extensions)
Note that classes 5 and 6 are not present within the Nottingham City boundary
Radon Maps
In 2007 the Health Protection Agency issued revised radon maps of England and Wales which appear to show that certain parts of the Nottingham City Council area may be deemed 'Affected Areas' where there is a greater than 1% chance of a house having radon levels above the Action Level. The Building Research Establishment (BRE) has also issued revised guidance on the protective measures required for new buildings.
The relevant publications are:
The publications differ slightly in that the maps contained in the HPA document show the Affected Areas in England and Wales where there is greater than a 1% chance of a house having radon levels above the current Action Level.  The maps contained in the BRE document show those areas where measures to prevent exposure to radon in all new or extended properties are required by the Building Regulations. Currently, the Building Regulations require preventative measures in Affected Areas where there is greater than a 3% chance of a house having radon levels above the current Action Level.
Radon map of the Nottingham City area
More information on whether your home is at risk of radon can be found at http://www.ukradon.org/information/ukmaps.
The map below shows the radon classes present in the Nottingham City area.  The data is published with the permission of the British Geological Survey.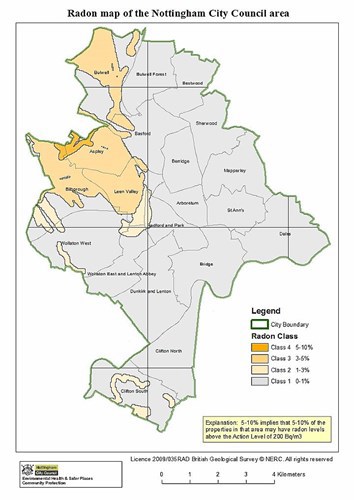 The radon risk for an area is generally determined by the local bedrock geology. The Class 1 area (the lowest risk) of Nottingham City is characterised by the sandstones of the Permo-Triassic age Lenton Sandstone Formation and the Triassic age Sherwood Sandstone Group rocks.  The Class 2 areas are characterised by Upper Carboniferous age Coal Measures rocks and some siltstone and sandstone beds in the Upper Triassic Mercia Mudstone Group rocks.  The Class 3 areas are characterised by Upper Permian age dolomitised limestones (locally known as "Bulwell Stone").  A small area of Class 4 in the NW of the Nottingham City area is attributed to basal Permian age conglomerates. For more information about rocks and their potential to generate radon, see "Geological controls on radon potential in England".
Advice and Information for Householders from Public Health England (formerly Health Protection Agency)
Even in radon Affected Areas, most homes do not have a radon problem. Public Health England (PHE) operates a radon services website (ukradon.org) which can tell you the estimated probability that a particular property is above the Action Level for radon, but the only way to find out whether it is in fact above or below the Action Level is to carry out a radon measurement.  PHE has published more information about radon (Five facts every homeowner should know about radon).
If you are buying a home, ask whether it has been tested for radon. Sellers are not legally obliged to volunteer the information that they know, but if you ask for it they must give it. Ask to see a letter giving the result.
If, as will be found in most cases, the result is under the Action Level for radon, 200 Bqm-3, the home does not need to have the radon level reduced.
If the result is over 200 Bqm-3, then there is a problem. In homes that do have a radon problem, the radon level can usually be reduced with simple, effective and reasonably inexpensive measures. More details about buying and selling homes are available on the Building Research Establishment website.
The PHE recommends that people in Affected Areas should test their homes for radon and provides the following services for householders which can be arranged through their radon services website ukradon.org.
The PHE also produces a free radon information pack which gives basic information about radon and describes how to obtain a radon measurement.  To request a pack, please email your name, address and postcode to radon@phe.gov.uk or contact Public Health England on 01235 822622.
Information for landlords and tenants
It is the landlord's responsibility to ensure that there are no hazards present. While boilers and fuse boards are regularly maintained, radon is often overlooked.
The Housing Health & Safety Rating System (HHSRS) is used by Local Authorities to evaluate potential risks and hazards to health and safety in a residential property. HHSRS covers 29 different categories and includes radon.
The Guidance states that "If the dwelling is in an Affected Area, then the construction and condition of the ground floor and the presence of open chimney flues and the means of ventilation should be assessed. If present, the state of any remediation measures should be checked. However, the condition of these will only indicate that there could be a problem. And, as radon levels can vary widely between apparently identical dwellings, the only way to determine whether there is a threat to health is by measurement or not."
Landlords
To fully comply with the risk assessment requirements of HHSRS, landlords with properties located in Affected Areas should carry out a radon test. If radon levels are found to be over the domestic Action Level of 200 Bq/m3, the landlord should arrange for remedial works to be carried out.  For more information, see http://www.radonassociation.co.uk/guide-to-radon/information-for-landlords-and-tenants/  and http://www.ukradon.org/information/tenants. There are various remedial measures to help reduce radon levels in existing buildings and to prevent radon entry into new buildings. The Target Level of 100 Bq m-3 is the ideal outcome for remediation works in existing buildings and protective measures in new buildings. For more information on remediation please see http://www.ukradon.org/information/reducelevels.
Where the property is in an affected area and the landlord fails to carry out appropriate remediation work to reduce the radon levels within the property, action will be taken by the Safer Housing team requiring works to be completed within the property.
Tenants
If you are a tenant and you are concerned that the property that you are renting may be in an Affected area you can check to see if you are at risk at http://www.ukradon.org/information/ukmaps.  If confirmed, contact your landlord and request a radon test for the property.
Measurement Service for Householders
The only reliable guide to the level of radon in a building is a measurement over a period long enough to average out short-term variations in radon levels - this should ideally be three months. The procedure recommended by the PHE is to use passive monitors as they are reliable, simple to use and can be sent by post. The individual result for each home is confidential and will not be given to anyone else without the prior consent of the householder at the time of the measurement. This service is available to any householder in the UK. This includes the supply of two radon detectors, their subsequent analysis and the reporting of the result. All packaging and return postage are also included. 
There may sometimes be a need for rapid information about radon, for example, to test the effect of mitigation work or when planning structural changes to a building. In such cases, screening tests can be helpful provided they are conducted in addition to the standard three-month test. This service provides an early indication of the likely result after only a couple of weeks. As with all short-term measurements, the result will be inconclusive in some cases. In such cases, the second set of detectors, returned after three months, will provide further information and a numerical value. The result is expressed in units that are directly comparable with the Action Level.
For information, see the PHE Measurement Service for householders.
Individual report on the radon potential for a home
The PHE provides an authoritative one-page report on the radon potential for a home. This report provides the reassurance of independent advice on radon potential without the need for individuals to consult and interpret detailed local maps - the report also includes brief advice on what to do next. The service has been developed by the PHE in response to demand from solicitors and others who wish to confirm whether a property is in a Radon Affected Area, a question often raised during house conveyancing. The service covers the whole of England, Wales and Northern Ireland and is based on published data.
This service includes a written report which will be issued with information on the results of radon measurements, both within the local authority area and the immediate locality of the property, as well as an estimation of the probability of elevated levels of radon existing in the property. However, measurement data for individual properties will not be provided because there is a confidential agreement between the HPA and individual householders. (Please note: PHE advice is that Environmental Search reports from other providers also provide this information and, unless a formal report from the PHE is required, there is nothing to be gained from obtaining the HPA report as well).
Radon in the workplace
There are regulations in place to control exposure to radon at work. More information is available from the Health and Safety Executive (HSE) and the UKRadon.